Rental
Pump rental from WJ - Diesel, Electric and Submersible pumps for short or long term hire.
WJ Philippines Pump Rental, Settlement Tank Rental and Drilling Rig Rental
Part of the WJ Group, WJ Philippines provides pump rental services for a wide range of applications throughout the Philippines. WJ specialise in turnkey pump rental solutions with a complete design, installation, operation and maintenance service.
WJ offer rental pumps from a range of manufacturers, to allow us to offer our clients the best pump for the job. An experienced technical and maintenance team provide professional advice and 24/7 callout on all our projects.
With over 35 years of experience and more than 3,000 projects to our name, we are dedicated to investing in technology to maximise reliability and fuel efficiency.
Leading the way in overpumping, pipeline flushing and pump rental since 2002, our PUMPS division is sure to have the rental service, knowledge and experience you need for your project.
Overpumping & Bypass Services
With the increase in demand of utility networks across the region, it has become important to conduct regular maintenance and upgrade works without major disruptions to the existing network. WJ excels in temporary overpumping and bypass solutions.
WJ excels in temporary overpumping and bypass solutions:
Bypass flow of storm, drainage and sewage networks
Ensure required drawdown within manholes
Reduce environmental impacts
Improve site safety
Reduce project costs and programme
Pumps suitable for pumping both water and sewage
Plugging using inflatable and mechanical stoppers
Flushing and cleaning of chilled water pipeline systems are very critical elements of any HVAC project.
WJ not only assists clients by supplying specialized pumping equipment and accessories but also designs flushing systems to achieve the required flushing velocity for effective commissioning of both pre and post-pipeline flushing.
With our large fleet of high pressure flushing pumps, WJ can meet any system volume and ensure timely delivery, matching the exact specifications and suited to our client's project budget. Detailed simulation of the network can be achieved through computer software systems.
WJ offer custom engineered solutions suitable for the needs of both offshore and onshore projects.
We offer Pumps, Generators, Air Compressors, Lighting Towers, and specialised services for pipeline pressure testing, pipeline flushing, well injection, feedwater transfer, crude oil storage tank and pipeline internal cleaning and hydrotesting.
Our equipment are available with the necessary safety specifications and certifications to work on Oil and Gas works.
Zone 2 certification
Lifting certification
Experienced and trained operatives
ADNOC ICV certification
CICPA Permits
Personnel trained in OPITO approved (BOSIET, HUET, FOET, H2S) courses
HDPE Pipeline Installation
Our skilled, certified and experienced technicians understand the need for precision of work.
WJ offer butt welding, electrofusion welding and fabrication of bends and fixtures.
WJ hold a large stock of HDPE pipes, flanged HDPE pipes for rapid installation, gate valves and fiitings for hire.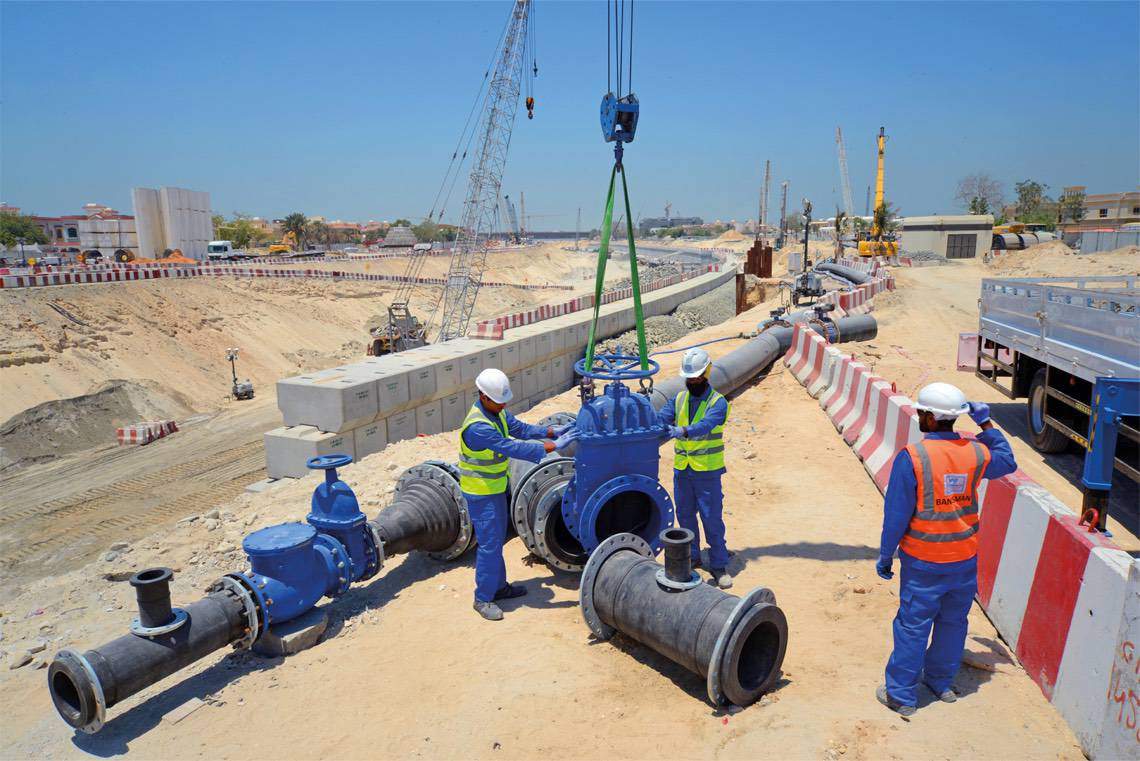 Emergency Flood Control & Planning
WJ operates an extensive fleet of pumping equipment with unrivalled capacities to control any emergency situations.
We partner with numerous local authorities, community managers and clients to offer our well reputed and recognized flood control and mitigation solutions. Our Service Teams operate round the clock in tandem with our quick response teams.
Optimization, Pumping Tests and In-House Design
WJ provides expert advice on technical and hydrogeological issues. We undertake pumping tests, computer modelling and calculations to bring optimized solutions.
WJ is able to provide a range of services:
Hydrotesting design, operation and interpretation
2D & 3D computer simulations of pipeline flushing networks
Pipeflow modelling
Assessment of site investigation data
Investigation of settlement risks
Development of control strategies
Specialist Plant & Equipment
WJ offer the following specialist plant & equipment hire services:
Sewage and water overpumping systems
Diesel and electric booster pumps
Hydraulic pump sets
HDPE discharge pipelines (up to 1,000mm diameter)
Sump pumps
Pipeline flushing and cleaning industrial services
Hydrotesting equipment
Automated and alarmed pumping and
monitoring systems
Generator, bunded fuel tank and nreak water tank
Instrumentation, telemetry and remote monitoring
Plugging of manholes for overpumping works
WJ Groundwater is fully committed to safeguarding the Health & Safety and wellbeing of each employee, other site staff and the general public.
WJ has an experienced workforce that are committed to hazard and risk minimization alongside safe working practices.
Rental Pumps
WJ Philippines offer a range of diesel, electric and submersible pumps for rent in Qatar. Below are the specification sheets for our fleet of rental pumps. We offer complete pump rental packages, including design, site supervision, accessories and project management. Check out our Services section for more information on our turnkey pump rental solutions.
Settlement Tanks
Hire one of our discharge and settlement tanks today! Naturally, as a leading dewatering and pumping specialist, we have a range of tanks in our fleet. Our standard range of tanks range from 1,000ltr to 20,000ltr tanks with capacity up to 1,000ltr/sec. Contact us today to find out how we can assist.
Drilling Rigs
WJ Philippines operate a fleet of drilling rigs suitable for installing dewatering systems, water wells, and boreholes. All our rigs are available for rent with operator. If you need to hire a drilling rig, you should rent from WJ.
Soilmec SM5
The Soilmec SM5 is a compact rotary drilling rig. Ideal for confined space and low head room. You should rent it for your next job.
Soilmec SR20H
The Soilmec SR20H is a compact piling rig. You should rent it for your next job.
Soilmec SM401
The Soilmec SM401 is a great rotary drilling rig. You should rent it for your next job.
Soilmec SM14
The Soilmec SM14 is an awesome rotary drilling rig. You should rent it for your next job.
Soilmec R210
The Soilmec R210 is a robust piling rig. You should rent it for your next job.
Drillmec G25
Drillmec G25 is a fully hydraulically driven, 3-axle truck mounted drilling suitable for drilling water wells.
Rental